"A top-of-the-line astromech droid, BB-9E was assigned to the Supremacy - the flagship of Supreme Leader Snoke - to keep machinery, procedures, and potential intruders in check."
— In-game description
BB-9E is a First Order hero in DICE's Star Wars Battlefront II. He was added as part of the BB Update along with BB-8.
BB-9E is the first droid hero for the Dark Side and is a support unit with abilities that support other Dark Side heroes and troopers.
Overview
[
]
"Programmed to not buckle in a fight, BB units serving the First Order often finds themselves in the crossfire. BB-9E is such a battle-hardened veteran."
— Star Wars Battlefront II website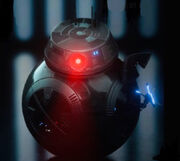 Similar to BB-8, BB-9E's main weapon is a shock prod that will damage enemies. Unlike BB-8's shock prod, however, BB-9E's will stun enemies while dealing lower damage to compensate.
BB-9E's passive ability Bacta Support heals friendly units around him by a small amount. This may be improved with the Potent Bacta Star Card. Also like BB-8, BB-9E has the passive ability Technical Support that allows him to count as two units when capturing Command Posts, useful in modes such as Supremacy, Co-Op, Instant Action, and certain phases of Galactic Assault.
BB-9E has three abilities. He can emit a smoke screen that obscures the immediate vicinity around him, while at the same time revealing the position of enemies in short pulses. His Shock Spin ability knocks back opponents right next to him and overheats the blasters from enemies farther away from him and disables incoming projectiles. While Shock Spin disrupts blasters, Charge Up does the opposite, as it grants unlimited cooling to nearby allies' blasters for a short period. It also decreases the cooldown time of friendly units' abilities.
Strategy
[
]
BB-9E's main weapon, Shock Prod, has low damage output, making it best used on one-on-one engagements or on low-health targets. If with another ally, the stun will be most effective in keeping the enemy immobilized for long enough for the ally to get the kill.
BB-9E is primarily a support hero with abilities that reward friendly players who stick close to him. This is best seen with his Bacta Support passive ability and his Charge Up ability.
His Smokescreen ability is very useful in close-quarter areas. Lightsaber users in particular will have a hard time tracking BB-9E. However, there are certain ways to see through the smoke, like Lando Calrissian's blaster scope or if he is marked by a scan ability such as Rey's Insight.
BB-9E's Shock Spin ability is especially deadly if used on a ledge or abyss, as it can knock enemies off the map. Maps like Command Sector North or Cloning Facility are great places to use this ability.
Additionally, BB-9E has good synergy with the other First Order hero Captain Phasma. When BB-9E activates his Charge Up ability, which grants unlimited cooling for a short time, Phasma will be able to fire her blaster for a longer time, which also becomes more accurate the longer she fires. Phasma can help BB-9E as well by deploying her droid, which can defend BB-9E, and allow allies to stay around the droid and receive bacta from BB-9E.
Levels
[
]
Level
Reward Upon Reaching Level
XP to Complete Level
Total Skill Points
1
None
3,000
0
2
1 Skill Point
Full Reconstruction becomes available
Hearty Exhaust becomes available
5,800
1
3
1 Skill Point
10,200
2
4
1 Skill Point
10,540
3
5
1 Skill Point
I See You becomes available
Spin Me Round becomes available
10,976
4
6
1 Skill Point
11,400
5
7
1 Skill Point
11,836
6
8
1 Skill Point
12,280
7
9
1 Skill Point
12,736
8
10
1 Skill Point
Linked Systems becomes available
16,750
9
11
1 Skill Point
17,203
10
12
1 Skill Point
Can now upgrade Star Cards to Rare
17,660
11
13
1 Skill Point
18,123
12
14
1 Skill Point
18,590
13
15
1 Skill Point
Faster, Faster! becomes available
Supercharged becomes available
19,063
14
16
1 Skill Point
19,540
15
17
1 Skill Point
20,023
16
18
1 Skill Point
20,510
17
19
1 Skill Point
21,003
18
20
1 Skill Point
Swift Power becomes available
Potent Bacta becomes available
21,500
19
21
1 Skill Point
22,003
20
22
1 Skill Point
22,510
21
23
1 Skill Point
23,023
22
24
1 Skill Point
23,540
23
25
1 Skill Point
Can now upgrade Star Cards to Epic
24,063
24
26-37
1 Skill Point per level
24,417
36
38-40
1,000 Credits per level
24,417
36
Prestige:
41-1,000 (MAX)
None
25,000
36
Health and Movement
[
]
Health Statistics for BB-9E
Base Health
600
Health Regen Rate
60 health/sec
Max Health Regen
250

Regen Delay
3 sec
Weapon
[
]
Shock Prod
Weapon Image
In-game Description
BB-9E stuns enemies with the SHOCK PROD and sustains damage over time.
Damage
24/0.3 seconds


Linked Systems
For every 4 enemies affected, increase the damage by one to a maximum of 26 / 28 / 30 / 32 every 0.3 seconds

Range
5 meters
Abilities
[
]
Passive Abilities
[
]
Combat Abilities
[
]
Boost Cards
[
]
Victory Poses
[
]
| Image | Name |
| --- | --- |
| | Shocking Victory |
| | Incognito |
| | Vigilant |
| | Bow |
Hero Theme
[
]
In-game Hints
[
]
General
[
]
"All heroes can dodge or evade. Use this to avoid damage and open distance between you and your enemy."
— First hint
"Dodge is most effective at avoiding lightsaber attacks and opening space between you and the attacker."
— Second hint
"Heroes can only block attacks from the front. Try to position around them and hit them from behind to be effective."
— Third hint
"Each time a blocking hero deflects damage or swings their lightsaber, they lose stamina. When out of stamina, heroes are unable to deflect or trigger a closing strike."
— Fourth hint
"Heroes have strengths and weaknesses. Hone your skills by playing Arcade."
— Fifth hint
"Use Star Cards to ensure your hero experience is personally tailored."
— Sixth hint
"Heroes will only regenerate a limited amount of health after taking damage."
— Seventh hint
Specific
[
]
"BB-9E is extremely agile on the battlefront. Use this edge to zip between multiple hot zones and help your allies."
— First hint
"BB-9E has several passive abilities. Position yourself on the battlefront to make the most of them."
— Second hint
"Enemies wielding lightsabers inside BB-9E's SMOKE SCREEN will have a hard time closing in on their targets."
— Third hint
[

]
| Emote | Name |
| --- | --- |
| | Suspicious |
| | Alarm |
| | Backfire |
| | Spiral |
Hero Themes
[
]
Intro
[
]
Outro
[
]
Trivia
[
]
BB-9E is the only droid hero for the Dark Side.
BB-9E is the first "support hero" for the Dark Side with several abilities granting bonuses to friendly units.
Older Heroes were released with a credit cost of 35,000, but BB-8 and BB-9E were both made available for free for everyone.
Unlike previous heroes, whose emotes and victory poses were unlockable using Credits or Crystals, BB-8 and BB-9E's emotes and victory poses are currently obtainable exclusively through milestones.
Updates
[
]
Added.
Known issue: Audio is not played when previewing BB-9E's emotes in the Collection menu.
Bug fix: Fixed an issue where no audio would play when inspecting BB-9E's emotes in the Collection menu.
Bug fix: Fixed an issue where BB-9E would eventually play the wrong voice lines when disrupted.
Bug fix: Fixed various visual issues with the trail left behind by BB-9E.
Bug fix: Fixed an issue where casting certain effects on BB-9E while using their abilities could cause the death of seemingly random AI players.
Bug fix: Fixed an issue where placeholder voice lines would trigger when BB-9E would encounter an enemy hero.
Bug fix: Fixed an issue where AI would not spawn as BB-9E as frequently as other heroes.
Bug fix: Fixed an issue where the "Effortless" milestone description for BB-9E would mention rewards using work-in-progress names.
General: Increased the support ability score reward from 2 to 4.
Bug fix: Fixed a visual issue where the Ewok Hunter's Instincts ability would show footprints on top of the trail left behind by BB-9E.
Bug fix: Fixed an issue where Charge Up would not lead to reduction of cooldown times on allies.
Gallery
[
]