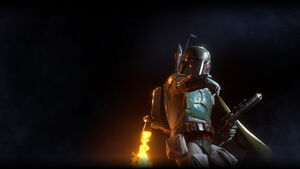 "There's always room for one more in the cargo hold."
— Boba Fett in Battlefront II
Boba Fett is a hero affiliated with the Galactic Empire in DICE's Star Wars Battlefront and Star Wars Battlefront II. In both games, he is equipped with a jetpack that allows him increased mobility and to quickly get out of harm's way.
Star Wars Battlefront

[

]
"Don't get in my way."
— Intro Dialogue
Boba Fett is an Imperial hero in DICE's Star Wars Battlefront. He is one of four bounty hunters in the game, the others being Greedo, Dengar, and Bossk.
Overview
[
]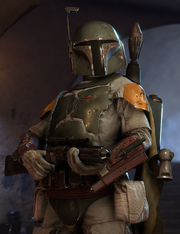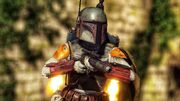 Boba Fett is a highly versatile hero character equipped with a variety of powerful weapons. The use of his Jetpack gives him an element of verticality that can make him difficult to track. His primary weapon is the EE-3 Blaster Rifle.
Abilities
[
]
Wrist Rocket: This long ranged ability allows Boba Fett to fire a powerful rocket from his wrist. This originally locked onto an enemy at any distance, but an update changed it to only lock on within 35 in-game meters of the target. The lock on ability was also temporarily taken away to not lock on until the former update allowed it again.
Flame Thrower: This short ranged ability allows Boba Fett to disintegrate rebels with fire. It can penetrate through Personal Shields.
Jetpack: Boba Fett's version of the Jetpack has its own way of functioning. Rather than boosting him a certain distance as the regular one would, it allows him to hover above ground. It can only be used for a certain amount of time before it needs to recharge.
Trait: Boba Fett was given a hero trait, along with the other base-game heroes in Battlefront, as a part of the Rogue One: Scarif Update. Boba Fett's trait gives him an increased amount of jetpack sustainability with each kill or damage dealt to opposing heroes. This means that as Boba Fett increase his trait level, he will be able to use his jetpack for a greater period of time. This will enable Boba Fett to be a primary threat in the air, where he is most effective, rather than on the ground of the Battlefront.
In addition to his main trait, Boba Fett was also given a passive trait of a scan pulse. In a similar manner to his main Hero trait, Boba Fett's passive trait will increase in level as he kills enemies or deals damage to opposing Heroes. This passive trait will increase at the same rate as Boba Fett's main trait. As Boba Fett increases his trait level, the scan pulse will span across a greater distance of the playing field, increasing the size and range of Boba Fett's scan pulse.
Level 0: Scan 5m, Jetpack 0%
Level 1: Pulse Scan 10m, Jetpack 6%
Level 2: Pulse Scan 15m, Jetpack 12%
Level 3: Pulse Scan 30m, Jetpack 18%
Weapon
[
]
Quotes
[
]
"I always hit my mark."
— Upon killing an enemy
"Get 'em off me!"
— At low health
"Nowhere left for you to run, Solo!"
— Upon damaging Han Solo
"You're hurt!"
— Upon killing or injuring an enemy soldier
"Draw their fire off me!"
— Upon taking damage or low health
"No disintegrations."
— Upon using the Flamethrower
"That was for Jango."
— Upon defeating Luke Skywalker
Updates
[
]
Gallery
[
]
Star Wars Battlefront II

[

]
"Boba Fett hunts his enemies by ambushing them with concussion missiles and deadly wrist rockets, all the while staying on the move with his jetpack."
— In-game description
Boba Fett returns in DICE's Star Wars Battlefront II once again as an Imperial hero. His abilities are slightly altered from the previous installment, but he still comes equipped with his iconic jetpack.
Overview
[
]
Boba Fett is the most mobile Dark Side hero in Battlefront II, capable of traversing the map quickly and reaching heights that no other character can. His jetpack allows for attacks at high speeds, but it burns fuel quickly, except when his ability For The Hunt is active, which temporarily grants him unlimited jetpack fuel. Despite the advantages granted by Boba's jetpack, it is also very susceptible to explosives, Force abilities, and explosive splash damage, knocking Boba out of flight and making him flail back down to the ground. However, the player can reactivate the jetpack in mid-air after a short delay.
Boba Fett's EE-3 blaster rifle weapon is effective at close-range to medium-range. Though it does not have a scope, his weapon's burst shots deal high damage, especially at close ranges, but is inaccurate at longer ranges.
Boba Fett's third ability Rocket Barrage deals very high area damage to enemies, especially Heroes if the Focalize Star Card is active. The Concussion Rocket, while relatively weak on the surface, can disable blasters and weapon abilities, making the ability highly effective at incapacitating heroes like Han Solo and Leia Organa with her E-11.
Levels
[
]
Level
Reward Upon Reaching Level
XP to Complete Level
Total Skill Points
1
None
3,000
0
2
1 Skill Point
Quick Refill becomes available
Born To Fly becomes available
5,800
1
3
1 Skill Point
10,200
2
4
1 Skill Point
10,540
3
5
1 Skill Point
Extended Exposure becomes available
Acute Concussion becomes available
10,976
4
6
1 Skill Point
11,400
5
7
1 Skill Point
11,836
6
8
1 Skill Point
12,280
7
9
1 Skill Point
12,736
8
10
1 Skill Point
Augmented Gear becomes available
16,750
9
11
1 Skill Point
17,203
10
12
1 Skill Point
Can now upgrade Star Cards to Rare
17,660
11
13
1 Skill Point
18,123
12
14
1 Skill Point
18,590
13
15
1 Skill Point
Fuel Efficiency becomes available
Intense Barrage becomes available
19,063
14
16
1 Skill Point
19,540
15
17
1 Skill Point
20,023
16
18
1 Skill Point
20,510
17
19
1 Skill Point
21,003
18
20
1 Skill Point
Death From Above becomes available
Focalize becomes available
21,500
19
21
1 Skill Point
22,003
20
22
1 Skill Point
22,510
21
23
1 Skill Point
23,023
22
24
1 Skill Point
23,540
23
25
1 Skill Point
Can now upgrade Star Cards to Epic
24,063
24
26-37
1 Skill Point per level
24,417
36
38-40
1,000 Credits per level
24,417
36
Prestige:
41-1,000 (MAX)
None
25,000
36
Health and Movement
[
]
Health Statistics for Boba Fett
Base Health
600
Health Regen Rate
50 health/sec

Max Health Regen
150
Regen Delay
5 sec
Movement Statistics for Boba Fett
Sprint Speed
7 meters/second
Maximum Jump Height
2 meters
Number of Dodges
2
Dodge Length
6.25 meters
Dodge Cooldown
1.1 seconds per dodge
All dodges grant 20% damage reduction throughout the animation
Weapon
[
]
Boba Fett's EE-3
Weapon Image
In-game Description
Produced by BlasTech Industries, the EE-3 carbine rifle is capable of firing a three-round burst at the cost of accuracy.
Damage
35-25 (Total:105-75)
Rate of Fire
120 BPM, 360 RPM
Damage per Second
210-150 DPS
Range
Start damage drop-off: 20 meters
End damage drop-off: 40 meters
Venting
1 seconds
Overheat
9 bursts + 1 extra shot, 28 shots (0.111, 0.037 heat per shot)
Overheat Penalty
0.7 seconds
Passive Cooldown Delay
0.7 seconds
Passive Cooldown
1 heat per second
Boba Fett's Flamethrower
Weapon Image
Damage
100
Abilities
[
]
Passive Ability
[
]
| | |
| --- | --- |
| Ability Name | Health on Elimination |
| Ability Icon | |
| In-game Description | Boba Fett regains health for each defeated enemy. |
| Effect | Grants 20 health per defeated trooper, 100 health per defeated Hero. |
Combat Abilities
[
]
Boba Fett's Jetpack Statistics
Horizontal Flight Speed
12.5 meters/second
Vertical Flight Speed
12.5 meters/second
Fuel Burn Rate (held)
20% per second

Refuel Rate
8.3% per second

Boost Cards
[
]
Victory Poses
[
]
| | | | |
| --- | --- | --- | --- |
| | | | |
| Legendary Bounty Hunter | Menace From Above | Mission Completed | Put Him In The Cargo Hold |
In-game Hints
[
]
General
[
]
"All heroes can dodge or evade. Use this to avoid damage and open distance between you and your enemy."
— First hint
"Dodge is most effective at avoiding lightsaber attacks and opening space between you and the attacker."
— Second hint
"Heroes can only block attacks from the front. Try to position around them and hit them from behind to be effective."
— Third hint
"Each time a blocking hero deflects damage or swings their lightsaber, they lose stamina. When out of stamina, heroes are unable to deflect or trigger a closing strike."
— Fourth hint
"Heroes have strengths and weaknesses. Hone your skills by playing Arcade."
— Fifth hint
"Use Star Cards to ensure your hero experience is personally tailored."
— Sixth hint
"Heroes will only regenerate a limited amount of health after taking damage."
— Seventh hint
Specific
[
]
"Boba Fett's position is hidden from enemy radar while For The Hunt is active."
— First hint
"Boba Fett's Concussion Rocket causes enemies to become dazed and unable to see clearly"
— Second hint
"Boba Fett's Jetpack enables him to quickly traverse the map and ambush his enemies from above"
— Third hint
Emotes, Quotes, And Related Audio
[
]
[

]
Updates
[
]
Gallery
[
]
Trivia
[
]
In Star Wars Battlefront, Both Boba Fett and Han Solo's theme come from the same song known as Carbon Freeze/Darth Vader's Trap/Departure of Boba Fett Medley in The Empire Strikes Back OST.
In both games, Boba Fett is voiced by Temuera Morrison who first voiced him in the 2004 re-release of The Empire Strikes Back, who also portrayed Boba's father, Jango Fett, in Attack of the Clones, as well as the clone troopers seen throughout Attack of the Clones and Revenge of the Sith and voiced both Boba & Jango in the original Star Wars: Battlefront II.