Fire Emblem Warriors: Three Hopes - The Loop
Play Sound
Bossk is a Galactic Empire Hero in DICE's Star Wars Battlefront, available to owners of the Death Star expansion pack. In Battlefront II, Bossk returns as a Hero for the Separatists and Galactic Empire.
Star Wars Battlefront

[

]
"Time to hunt."
— Intro Dialogue
Bossk is a Galactic Empire Hero in DICE's Star Wars Battlefront. He was added to the game via the Death Star expansion pack, alongside Chewbacca.
Overview
[
]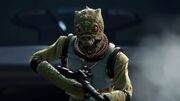 Bossk is best used at long range. His Relby packs a big punch and takes a long time to overheat, so don't be afraid to blast away at enemies. It is also important to note that the micro grenades are extremely good at taking out squad shields, and large groups of enemies. His toxic escape ability is great for putting space between you and an enemy which managed to get close to you. His predatory instincts should generally be left on, as they give heat vision, decreased cooldowns, increased damage, and faster sprint speed. Whether the fight is in a cramped tunnel or an open battlefield, Bossk is best used to give heavy fire from a distance. Bossk is also a great counter to enemy snipers because of his heat vision and long-range weapon. Combining his Toxic Escape ability with a well timed jump can allow Bossk to gain extra height. Against other heroes Bossk is devastating. At long range his Relby is able to shred through heroes. And up close he can use his Toxic Escape and Micro-Grenades to easily kill them.
Abilities
[
]
Micro-Grenades
[
]
Upon usage, Bossk switches his Relby to grenade mode which fires one grenade per shot at enemy forces. If a grenade hits an enemy soldier, it will kill them upon impact. If not they will explode after a short time. The grenades can bounce off of walls allowing Bossk to effectively fire grenades around corners.
Predatory Instincts
[
]
Bossk uses a Predator-style heat detection that detects enemies, friendlies, and himself in all weather including in smoke. Bossk will also gain enhanced melee strength, increased blaster damage, increased sprint speed, and faster ability cooldowns. This will allow Bossk to two-shot enemies, or one-shot headshot them with his primary blaster. Predatory Instincts can be toggled on and off and has no cooldown. It can be countered with a flash grenade or sonic implode which will blind him for much longer than without Predatory Instincts.
Toxic Escape
[
]
Bossk drops a Dioxis Grenade, and then launches in whatever direction the player steers him. Unlike regular dioxis grenades, this one is much more powerful, and can take a lot of health away at a quick pace. He will also regain health per each soldier that dies.
Trait
[
]
Bossk's trait, Trandoshan Regeneration, will allow him to restore health with each kill, as Trandoshans are known for being able to regenerate severed limbs. The base trait allows Bossk to regenerate 2% health. Trait level 1 gives Bossk 3% regeneration per kill, trait lever 2 gives 5% regeneration per kill and trait level 3 gives 7% regeneration per kill. Health regenerates with all kills including ones from his abilities.
Weapon
[
]
Updates
[
]
Reduced Microgrenades inner radius from 3 to 2.5 meters.
Reduced Microgrenades radius from 5 to 4 meters.
Predatory Instincts will no longer randomly turn off.
Star Wars Battlefront II

[

]
"Bossk is a hunter, able to go on the offensive to root out his prey with deadly Dioxis Gas or keep his distance and snipe from afar, protecting his position with mines."
— In-game description
Bossk returns in DICE's Star Wars Battlefront II as a hero for the Separatists and Galactic Empire.
Overview
[
]
Bossk is one of the most versatile and sustainable heroes on the battlefront. He is the only hero whose max health regen is the same as his base health, which allows him to regenerate his health back to full when not taking damage. However, the regen delay is slightly longer than most heroes and he regenerates health at a slower rate.
His abilities and weapon can complement both long and close range combat. His Relby V-10 has different characteristics, depending on if the player uses the weapon's scope. When fired from the hip, the weapon deals more damage up close, but will lose damage quickly over range. This can be remedied by zooming in with the weapon, which will charge the current shot. The shot increases in damage the longer the player is scoped in. His abilities can be used to both hold an objective or help push off opponents in a contested area.
His Dioxis Grenade is both an offensive and defensive tool; in addition to healing Bossk with a star card, its effect can go through solid objects, making it ideal for dealing damage to enemies in cover. His Predator Instincts turns him into a hunter. It turns his Relby V-10 into a explosive grenade launcher and gives Bossk thermal vision which will highlight enemies, and faster sprint speed. Finally, his Proximity Mines can deal heavy damage to enemies in a large area when triggered, and can be used to cover his flank, trap enemies, or lock down a contested point.
Levels
[
]
Level
Reward Upon Reaching Level
XP to Complete Level
Total Skill Points
1
None
3,000
0
2
1 Skill Point
Name Your Poison becomes available
Trap Arming Speed becomes available
5,800
1
3
1 Skill Point
10,200
2
4
1 Skill Point
10,540
3
5
1 Skill Point
Spreading The Disease becomes available
Sniper Expert becomes available
10,976
4
6
1 Skill Point
11,400
5
7
1 Skill Point
11,836
6
8
1 Skill Point
12,280
7
9
1 Skill Point
12,736
8
10
1 Skill Point
Unrelenting Predator becomes available
16,750
9
11
1 Skill Point
17,203
10
12
1 Skill Point
Can now upgrade Star Cards to Rare
17,660
11
13
1 Skill Point
18,123
12
14
1 Skill Point
18,590
13
15
1 Skill Point
Predator Resilience becomes available
Multi-Traps becomes available
19,063
14
16
1 Skill Point
19,540
15
17
1 Skill Point
20,023
16
18
1 Skill Point
20,510
17
19
1 Skill Point
21,003
18
20
1 Skill Point
Ultimate Predator becomes available
Lingering Dioxis becomes available
21,500
19
21
1 Skill Point
22,003
20
22
1 Skill Point
22,510
21
23
1 Skill Point
23,023
22
24
1 Skill Point
23,540
23
25
1 Skill Point
Can now upgrade Star Cards to Epic
24,063
24
26-37
1 Skill Point per level
24,417
36
38-40
1,000 Credits per level
24,417
36
Prestige:
41-1,000 (MAX)
None
25,000
36
Health and Movement
[
]
Health Statistics for Bossk
Base Health
600
Health Regen Rate
25 health/sec

Max Health Regen
600
Regen Delay
5 sec
Movement Statistics for Bossk
Sprint Speed
7 meters/second
Maximum Jump Height
6 meters
Number of Dodges
2
Dodge Length
4.75 meters
Dodge Cooldown
1.1 seconds per dodge
All dodges grant 20% damage reduction throughout the animation
Weapon
[
]
Bossk's Melee
Weapon Image
Damage
65
Abilities
[
]
Boost Cards
[
]
Victory Poses
[
]
| | | | |
| --- | --- | --- | --- |
| | | | |
| Born Predator | In It for the Pay | Reptilian Instincts | Feared Bounty Hunter |
In-game Hints
[
]
General
[
]
"All heroes can dodge or evade. Use this to avoid damage and open distance between you and your enemy."
— First hint
"Dodge is most effective at avoiding lightsaber attacks and opening space between you and the attacker."
— Second hint
"Heroes can only block attacks from the front. Try to position around them and hit them from behind to be effective."
— Third hint
"Each time a blocking hero deflects damage or swings their lightsaber, they lose stamina. When out of stamina, heroes are unable to deflect or trigger a closing strike."
— Fourth hint
"Heroes have strengths and weaknesses. Hone your skills by playing Arcade."
— Fifth hint
"Use Star Cards to ensure your hero experience is personally tailored."
— Sixth hint
"Heroes will only regenerate a limited amount of health after taking damage."
— Seventh hint
Specific
[
]
"Firing too early when using the scope of Bossk's Relby V-10 will result in dealing less damage with the shot."
— First hint
"If Bossk equips the Name Your Poison Star Card, he will regenerate health while standing within the effects of his Dioxis Grenade."
— Second hint
"Bossk is strong at holding an area or objective location, using his Mines and Dioxis Grenade to keep enemies at bay"
— Third hint
[

]
Hero Themes
[
]
Intro
[
]
Outro
[
]
Updates
[
]
Trivia
[
]
He is the sixth hero who wasn't playable in Pandemic Studios' Star Wars: Battlefront series.
He is voiced by Dee Bradley Baker in Battlefront and Battlefront II.
In Battlefront, Bossk is the second and final villain to not be human, the other being Greedo.
In Battlefront, Bossk is the only villain who can regain health without the use of a pickup.
In Battlefront II, sometimes, when killing someone, Bossk will sometimes mention the scorekeeper, who is someone that the Trandoshans honor by getting kill points from hunting, as Bossk will say both, "I honor the scorekeeper," or "The scorekeeper favors me."
Gallery
[
]