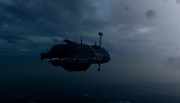 Capital ships are massive warships used by the various factions in DICE's Star Wars Battlefront and Star Wars Battlefront II. They are often accompanied by lighter cruisers, including frigates and corvettes as well.
Capital ships and cruisers can be flown around and interacted with in certain modes where they are featured as objectives, such as Starfighter Assault and Supremacy, while in other modes they are found in the background, sometimes in battle. They cannot be piloted like vehicles. The interiors of some capital ships are fought on in Supremacy, and are also featured as smaller maps in Heroes vs. Villains, Hero Showdown, and Co-Op Missions.
Community content is available under
CC-BY-SA
unless otherwise noted.