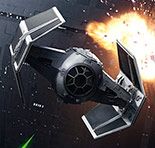 The TIE Advanced is Darth Vader's personal starfighter. It will be added as a Hero Vehicle in the Death Star expansion pack. It will be playable in Fighter Squadron and Battle Station. It will be the second vehicle added via DLC.
When the Advanced is present on the battlefront, two players will be able to spawn next to the vehicle and play as Vader's Imperial Aces. These two Aces have the respective call signs of Victor Two and Victor Three.
It will have a team buff, where if any Imperial player controlled ships come near they will receive a damage boost. It is unknown how long this buff will last, as we have no seen game play of this feature yet.