Raise a Floppa - The Loop
Play Sound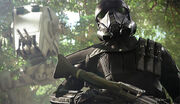 Death Troopers are special units for the Galactic Empire in DICE's Star Wars Battlefront and Star Wars Battlefront II, appearing as the hero bodyguards for Director Krennic in Star Wars Battlefront and as Enforcer Reinforcement units for the Empire in Star Wars Battlefront II.
Star Wars Battlefront

[

]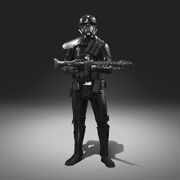 Overview
[
]
In Star Wars Battlefront, Death Troopers are the bodyguards of Director Krennic. Their abilities differ from the other types of bodyguards in the game, which both have a Homing Shot and Smart Rocket ability. Death Troopers, in contrast, have three abilities: Thermal Imploder, Cooling Cell, and a Smart Rocket.
Loadout
[
]
DLT-19: Death Troopers wield a more powerful version of the DLT-19 Heavy Blaster as their primary weapon, allowing them to quickly dispatch enemies from close-to-medium range.
Thermal Imploder: Death Troopers can throw a Thermal Imploder with their first ability. It delivers nearly the same feel as the imploder you get as a pickup.
Cooling Cell: Death Troopers can stop their upgraded DLT-19 Heavy Blasters from overheating for a short period by activating their center ability, Cooling Cell.
Smart Rocket: The Death Trooper's third and final ability, and the only ability that it shares with the other bodyguards. Can be used on vehicles and large groups of enemies.
Tips
[
]
While Death Troopers will naturally want to stay close to Director Krennic in order to receive the armor boost as well as the increased cooldown speeds on their abilities, they are generally more powerful in close quarters. This is where large groups of enemies are, and the Thermal Imploder and Smart Rocket will kill more people per shot. For open areas, avoid using the Thermal Imploder, because it takes too long to detonate, giving the enemy time to escape. If both the Imploder and Smart Rocket are on cooldown, use the Cooling Cell when facing large groups of enemies to boost your firepower, as this will give you significantly more shots before you will have to cool your weapon. Don't leave Krennic while facing enemies, as you have very little health and can die incredibly fast.
Star Wars Battlefront II

[

]
"The elite soldiers of Imperial Intelligence, Death Troopers live up to their name through skill, deadly weaponry, and superior armor."
— In-game description
Death Troopers are Enforcer Reinforcement units for the Galactic Empire in DICE's Star Wars Battlefront II.
Overview
[
]
Death Troopers pack a punch with their E-11D. Their armor also grants them additional health above normal infantry and they come into the battle with a Sonic Imploder that concusses nearby enemies while dealing damage. As such, Death Troopers are best used to disorient and overwhelm their opponents with effective use of their precise blasters, using overload to increase this rate of fire to an even greater amount, high health, and Sonic Imploders that concusses enemies as well as dealing damage.
Health and Movement
[
]
Health Statistics for Death Trooper
Base Health
320

Health Regen Rate
40 health/sec


Survivalist
Regeneration is increased to 55 / 70 / 79 / 100 health per second

Regen Delay
6 sec
Weapon
[
]
Weapon Image
In-game Description
The DLT-19 is a heavy blaster with an excellent rate of fire that deals heavy damage at long range, capable of pinning down troops and taking out large groups of enemies.
Damage
22-12
Rate of Fire
600 RPM

Damage per Second
220-120 DPS

Range
Start damage drop-off: 20 meters

End damage drop-off: 40 meters

Venting
2.5 seconds
Overheat
56 shots (0.0181818 heat per shot)

Overheat Penalty
1 seconds
Passive Cooldown Delay
5 seconds
Passive Cooldown
0.1 heat per second
Melee
Weapon Image
Damage
65
Abilities
[
]
Boost Cards
[
]
Updates
[
]
Reduced damage (56->50 / 35->24).

Note: although this change references a nerf to the Death Trooper's main weapon, no actual changes were made to it. The Death Trooper's E-11D remains as it was from the previous update.
Trivia
[
]
They are of the few variants of Stormtroopers that didn't appear in the original Battlefront series by Pandemic Studios as they first appeared in Rogue One: A Star Wars Story.
In Star Wars Battlefront, Death Troopers use voicelines meant for standard infantry. In Star Wars Battlefront II, they speak with their familiar scrambled voices from Rogue One and Star Wars Rebels.
In Star Wars Battlefront II, the Death Troopers originally wielded a DLT-19 as their primary weapon, until the correction to the E-11D was made as part of the Age of Rebellion update.
The Death Trooper's Overload ability is unique in that it still allows the Death Trooper to move at full speed, compared to other Enforcers being forced to move at a slower walking speed.
Gallery
[
]