"Notorious for its destructive weaponry and powerful shields, the droideka was a flexible defender able to swiftly relocate from one tactical position to another."
— In-game description
The Droideka, also known as the Destroyer droid, is an Enforcer Reinforcement unit for the Separatists in DICE's Star Wars Battlefront II. It was released in the Where are those Droidekas? Update on June 26.[1]
The Droideka is a powerful and mobile Enforcer unit for the Separatists. Droidekas are armed with twin blaster cannons, which can deal significant damage to enemy players within a short-range and deal small amounts of splash damage. The splash damage helps the Droideka in harassing enemy Heroes that are blocking, along with dealing minor chip damage to enemies hiding behind cover. However, these blasters will lose their effectiveness over range quickly, and can only be fired when the Droideka is in its walking form. Droidekas can further increase their rate of fire with their central ability, Overload, allowing them to shoot their twin blaster cannons for a sustained period of time without overheating.
While Droidekas move slowly in their normal form, or their "Destroyer" mode, they can use their Wheel Form ability to fold into their chassis and roll around maps at higher speeds. While Droidekas possess a large health pool, they can still be quickly overwhelmed by enemy fire due to their low mobility and large profile while in walking form. To increase their survivability, Droidekas can fortify their position by using their Energy Shield along with gaining 50% damage reduction when in Wheel Form. Droidekas can shoot through their own shields while using them, unlike the Personal Shield, although their own shields are just as susceptible to ion weaponry. Melee and lightsaber attacks can also easily damage a Droideka through its shield. 
Health Statistics for Droideka
Base Health
350

Health Regen Rate
40 health/sec


Survivalist
Regeneration is increased to 55 / 70 / 79 / 100 health per second

Regen Delay
6 sec
Ability Icon
In-game Description
Transition into WHEEL FORM to greatly increase movement speed.
Effect

Faster movement
Grants 50% damage reduction to the Droideka
Prevents Droideka from using weapons

Ability Duration
∞
Ability Cooldown
3 seconds
Ability Icon
In-game Description
Overrides a weapon's factory settings. It modifies the primary fire mode and supercools the barrel to prevent heat buildup.
Effect

Increases rate of fire to 400 RPM
Prevents weapon from overheating
Limits mobility to walking speed

Ability Duration
9 seconds
Ability Cooldown
16 seconds
Droideka can't pass through narrow doorways
[
edit
|
edit source
]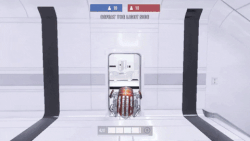 The Droideka model is so big it doesn't fit in pathways meant for troopers to pass through. DICE defended the concept because there were different variants of Droideka in the Star Wars Canon and they chose a big one (it's even taller then Anakin Skywalker). The problem with it is that now if you get a Droideka you can't follow your fellow troopers and heroes to certain places because you can't fit. Sometimes if you spawn in a room that the only routes out are narrow doorways, you're literally stuck inside. Sometime later the AI became able to use the Droideka, and it too gets stuck in narrow doorways because its programming can't understand the Droideka doesn't pass through narrow doorways.
Rolling with the shield active
[
edit
|
edit source
]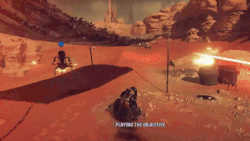 There's a glitch that allows a Droideka to have an invisible but fully functional shield while rolling. This glitch came with the Droideka's release and was never addressed. Not only that, but it also allows the droideka to pop its normal shield on top of the invisible one, almost doubling the total damage it can sustain.
Bug fix: Fixed a visual issue where the Droideka's energy shield would not be visible when in the Squad Spawn screen, after joining a game already in progress.
New content: Added Milestones for the Droideka and TX-130.
Bug fix: Fixed an issue where the "On a Roll" milestone would not track progress when the Droideka is rolling at maximum speed.
Bug fix: Fixed an issue that would occasionally cause the Droideka to shake uncontrollably when affected by Anakin's Retribution ability.
Bug fix: Fixed an issue where Droideka would occasionally get stuck in Overheated animation when using the Overload ability.
Bug fix: Fixed an issue where the Droideka's shield effect would cancel out any distortion screen effects caused by the Officer's Flash Grenade.
New content: New appearance for the Droideka, Training, is now available.
Bug fix: Fixed an issue where the Droideka would automatically fire a shot upon being deployed on the map.
Bug fix: Fixed an issue where there were irregularities in the destroyed model of the Droideka Training Skin.
Buff: Increased Shield Health from 550 to 600.
Buff: Gave Droideka 50% damage reduction while in Wheel Form.
Community content is available under
CC-BY-SA
unless otherwise noted.