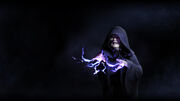 Darth Sidious, also known as Emperor Palpatine or the Emperor, is an Imperial Hero in DICE's Star Wars Battlefront and returns as a Dark Side Hero for the Galactic Empire and First Order in Star Wars Battlefront II.
"I will show them the true nature of the Force"
— Intro Dialogue
Darth Sidious is an Imperial hero in DICE's Star Wars Battlefront. A support hero, Sidious can help turn the tide of battle with his combat and support abilities. His hero equivalent on the Rebel Alliance is Princess Leia.
Darth Sidious's basic attack is Force Lightning. This short-range attack fires a stream of lightning towards enemies in front of Sidious, inflicting damage at a constant rate that depletes enemies of their health.
Sidious's jump is also augmented by the Force, allowing Sidious, similar to his apprentice Darth Vader, to jump higher in the air than other heroes. Unlike in the original games, Sidious does not hover constantly. Instead of a regular jumping ability, Sidious will instead use the Force to "fly" several feet off the ground and slowly descend back to the ground afterwards. While doing this he can still use his Force Dash ability upward to gain altitude quickly before he begins to descend. His unique jump allows for more altitude compared to other heroes, although it is slower.
When Darth Sidious is on the battlefield, two players can spawn as Imperial Royal Guards. They are equipped with a more powerful T-21 Heavy Blaster and, as abilities, can use Smart Rockets and Homing Shots. A maximum of two Imperial Guards can be on the map at a time. In Heroes vs. Villains, Royal Guard spawns are limited to two per round. In larger game modes, more than two can spawn per game. Prior to the Bespin Update, Sidious's bodyguards were instead Shock Troopers, though they share the same abilities and statistics to the current Royal Guards.
Sidious can also use the Force to block attacks in a similar fashion to other Force wielders and even block lightsaber strikes. Sidious's blocking ability absorbs all blaster shots directed towards him, however, it does not reflect the shots towards the player's crosshair as is the case with Luke Skywalker and Darth Vader, instead the shots are simply absorbed while any damage dealt by them will be negated. Normal blaster shots will be blocked with no damage dealt, explosive projectiles such as Bowcasters, Homing Shots and Explosive Shots, will be blocked but Sidious will still suffer splash damage while solid projectile weapons such as the Cycler Rifle or Scatter Gun, cannot be blocked at all.
Darth Sidious has three abilities:
Chain Lightning: This fires a single large burst of electricity with a greater range than the default force lightning. When fired, the Chain lightning will attach itself to a target within range and then spread to all nearby valid targets as well, killing them instantly in most cases. If used against a hero, the ability will deal high damage and briefly stun them. This ability briefly immobilises the Emperor upon use.
Force Dash: This move allows Sidious to quickly dash forward in the direction he is moving. This can be used to move into range or fly up to a high point. This maneuver appeared in Star Wars: Episode 3: Revenge of The Sith.
Imperial Resources: This support ability spawns a basic power-up for all infantry, barring the Emperor's Royal Guards. On Heroes vs. Villains and Hero Hunt, in lieu of spawning this, a Hero Health Pickup is spawned, obtainable by any hero (even those of the enemy team). This gives the Emperor up to 50% health, although this varies for other heroes, such as Darth Vader, whose health is naturally higher than that of his fellow heroes, causing him to only regain around 20-30% health. The health pickup is also spawned on the offline modes of Skirmish and Battles. The pickups can be stolen by the Rebels so it is important not to leave the pickup sitting around.
Darth Sidious was given a hero trait, along with the other vanilla heroes in Battlefront, as a part of the Scarif DLC patch. Darth Sidious's trait gives him an increased amount of lightning sustainability with each kill or damage dealt to opposing heroes. This means that as the Emperor increases his trait level, he will be able to use his main lightning attack for a greater period of time. As Darth Sidious's trait level increases, his lightning usage rate will decrease. In addition, his lightning recharge rate will increase. With this trait, Sidious will be able to use his lightning attack to a much greater extent against his enemies, thus, making him a greater attack threat on the Battlefront to pair with his characteristics as a support hero as well.
Level 1: 9%
Level 2: 18%
Level 3: 25%
"You will all die as one!"
— Upon using Chain Lightning
"You will all perish!"
— Upon using Chain Lightning
"I will leave you a burning husk."
— Upon using Chain Lightning
"I am all-powerful!"
— Upon attacking an enemy with standard Lightning
"You dare approach me?!"
— Upon being damaged
"Use this to smash their lines."
— Upon dropping Imperial Resources/Hero Health Drop
"A gift from your Emperor."
— Upon dropping Imperial Resources/Hero Health Drop
"Such fragile creatures you are. *laughs*"
— Upon killing multiple enemies in quick succession
"I wonder if your feelings on this matter are clear."
— Emote
"I am quite safe from your pitiful band."
— Emote
"Everything is proceeding as I have foreseen."
— Emote
"It'll take more than that to stop me."
— Upon being attacked
"Now you die!"
— upon using lightning
"I will burn you all to the ground."
— when attacking opponents
"You are nothing but insects."
— Upon killing a soldier
"You are only delaying the inevitable."
— while in combat
"Skywalker is not far"
— When Luke Skywalker is nearby
Palpatine's Force Lightning was buffed to drain significantly more slowly than it did at launch, in addition to the Hero Health Pickup being made nearly twice as effective.
"Emperor Palpatine eliminates whole groups of enemies at a time using his powerful manipulation of the Force to slow, stun, and pummel them with lightning."
— In-game description
Emperor Palpatine returns in DICE's Star Wars Battlefront II as a Hero for the Galactic Empire and the First Order.
"Be Menacing"
— Star Wars Battlefront II website

The sinister ruler of the Galactic Empire and Final Order is a daunting opponent. The Emperor's mastery of the dark side allows him to wield terrifying powers against the forces of good. Compared to the previous game, his main force lightning attack has been drastically weakened. It now deals far less damage, runs out of energy faster and does not prevent enemies from retaliating while they are being damaged by it. Palpatine is also now completely unable to block attacks directed towards him, forcing him to rely on his mobility to avoid damage.
Palpatine's force lightning attack behaves a little differently in that it is now a two-part attack. Palpatine can now cast force lightning with both of his hands individually, both the left and right hand have separate overheat mechanisms, meaning that alternating back and forth between the left and right hands allows the player to sustain a constant barrage of lightning, albeit with a far weaker damage profile. To compensate for this however, using lightning with only one hand allows the lightning to spread to multiple targets standing near each other. As a third alternative, the player can also cast force lightning using both hands simultaneously, providing double damage in exchange for a noticeably faster overheat.
Palpatine's ability setup has also been changed. He retains the Chain lighting ability but is no longer able to spawn health pickups or use Force Dash. Those abilities have been replaced with Dark Aura and Electrocute, and the latter has been replaced with a much more usable substitute for the combat roll.
Level
Reward Upon Reaching Level
XP to Complete Level
Total Skill Points
1
None
3,000
0
2
1 Skill Point
Lightning Reach becomes available
Amplified Aura becomes available
5,800
1
3
1 Skill Point
10,200
2
4
1 Skill Point
10,540
3
5
1 Skill Point
Prime Electrocution becomes available
Show No Mercy becomes available
10,976
4
6
1 Skill Point
11,400
5
7
1 Skill Point
11,836
6
8
1 Skill Point
12,280
7
9
1 Skill Point
12,736
8
10
1 Skill Point
Growing Darkness becomes available
16,750
9
11
1 Skill Point
17,203
10
12
1 Skill Point
Can now upgrade Star Cards to Rare
17,660
11
13
1 Skill Point
18,123
12
14
1 Skill Point
18,590
13
15
1 Skill Point
Surge Of Lightning becomes available
The Rule Of Two becomes available
19,063
14
16
1 Skill Point
19,540
15
17
1 Skill Point
20,023
16
18
1 Skill Point
20,510
17
19
1 Skill Point
21,003
18
20
1 Skill Point
In Full Control becomes available
Forked Lightning becomes available
21,500
19
21
1 Skill Point
22,003
20
22
1 Skill Point
22,510
21
23
1 Skill Point
23,023
22
24
1 Skill Point
23,540
23
25
1 Skill Point
Can now upgrade Star Cards to Epic
24,063
24
26-37
1 Skill Point per level
24,417
36
38-40
1,000 Credits per level
24,417
36
Prestige:
41-1,000 (MAX)
None
25,000
36
Health Statistics for Emperor Palpatine
Base Health
700
Health Regen Rate
75 health/sec

Max Health Regen
250
Regen Delay
5 sec
Movement Statistics for Emperor Palpatine
Sprint Speed
7 meters/second
Maximum Jump Height
10 meters
Number of Dodges
2
Dodge Length
Forwards/Backwards: 10 meters

Left/Right: 6.25 meters

Dodge Cooldown
1.1 seconds per dodge
All dodges grant 20% damage reduction throughout the animation
Emperor Palpatine's Lightning
Weapon Image
In-game Description
Dark side Force power firing electricity from the fingertips of the user.
Damage
One hand: 14/0.3 seconds
Two hands: 28/0.3 seconds


The Rule Of Two
Increases two-handed damage to:
33 / 34.5 / 36 / 37.5
to enemies affected by Electrocute

Range
14 meters
Stamina
One hand: 10% stamina per second


Two hands: 15% stamina per second
Emperor Palpatine's Melee
Weapon Image
Damage
90
| | |
| --- | --- |
| Ability Name | Health on Elimination |
| Ability Icon | |
| In-game Description | Emperor Palpatine regains health for each defeated enemy. |
| Effect | Grants 20 health per defeated trooper, 100 health per defeated Hero. |
Ability Icon
In-game Description
Force lightning strikes a target and then spreads to hit other nearby enemies.
Damage
120
Effect
Deals damage and chains through up to 6 targets
Area of Effect
18 meters
Ability Cooldown
15 seconds

Show No Mercy
Reduces cooldown by 0.25 seconds with every target hit, up to a maximum of:
2 / 3 / 4 / 5 seconds
Ability Icon
In-game Description
Emperor Palpatine charges the air around him with Force energy, damaging those around him.
Damage
15 on startup
15 per second

Amplified Aura
Increases damage per second to:
17.25 / 18 / 18.75 / 19.5
if Dark Aura affects 3 or more enemies

Area of Effect
10 meters

Growing Darkness
Dark Aura grows by up to:
10% / 13% / 16% / 20% meters
for as long as it is active

Ability Duration
8 seconds
Ability Cooldown
25 seconds
Ability Icon
In-game Description
Palpatine immobilizes enemies in front of him with electrical energy.
Effect
Stuns targets
Area of Effect
15 meters
Ability Duration
1 second

Prime Electrocution
Increases stun duration to:
1.15 / 1.2 / 1.25 / 1.3 seconds
if Electrocute affects 3 or more enemies

The Rule Of Two
Increases two-handed damage to:
33 / 34.5 / 36 / 37.5
to enemies affected by Electrocute

Ability Cooldown
20 seconds
| Image | Name |
| --- | --- |
| | Galactic Emperor |
| | Good, good |
| | Turn to the Dark Side |
| | Unlimited Power |
"All heroes can dodge or evade. Use this to avoid damage and open distance between you and your enemy."
— First hint
"Dodge is most effective at avoiding lightsaber attacks and opening space between you and the attacker."
— Second hint
"Heroes can only block attacks from the front. Try to position around them and hit them from behind to be effective."
— Third hint
"Each time a blocking hero deflects damage or swings their lightsaber, they lose stamina. When out of stamina, heroes are unable to deflect or trigger a closing strike."
— Fourth hint
"Heroes have strengths and weaknesses. Hone your skills by playing Arcade."
— Fifth hint
"Use Star Cards to ensure your hero experience is personally tailored."
— Sixth hint
"Heroes will only regenerate a limited amount of health after taking damage."
— Seventh hint
"Using both of the Emperor's hands together will deliver a much more damaging lightning attack--but at the cost of a greater drain on the player's Stamina."
— First hint
"The Emperor's Dark Aura slows and damages targets within its area of effect."
— Second hint. Note how this hint still mentions Palpatine's removed slowness effect that Dark Aura once had.
"The Emperor is at his most powerful when he is engaging with multiple enemies at close range"
— Third hint
"Good! Let the hate flow through you!"
— First emote
"Do what must be done! Do not hesitate, show no mercy!"
— Second emote
"Now, at the end, do you understand."
— Third emote
"Now you will experience the full power of the dark side."
— Fourth emote
"I thank you for bringing this to my attention."
— Upon spawning
"Sith are not afraid of the dark side of the Force."
— Upon spawning
"I can feel your anger, it makes you strong."
— Upon spawning
"The dark side is powerful!"
— Upon spawning
"Experience power!"
— Upon using Chain Lightning
"Do not try my patience!"
— Upon using Electrocute
"I am eternal."
— Upon using Dark Aura
"Good, good."
— In-game
"DIE!"
— In combat
"I have no use for you!"
— In combat
Buff: Increased health from 650 to 700.
Buff: Increased maximum health regeneration from 150 to 300.
Buff: Increased health regeneration rate from 50 to 75.
Buff: Decreased 1-hand Force Lightning stamina cost from 15 stamina/sec to 10 stamina/sec.
Buff: Decreased 2-hand Force Lightning stamina cost from 20 stamina/sec to 15 stamina/sec.
Buff: Increased reach of normal attack from 12 to 14 meters to compensate for the tighter collision check.
Nerf: Palpatine now requires line of sight on his target to trigger damage with his Dark Aura and normal attack. Both attacks will no longer go through obstacles and walls.
Known issue: 1- and 2-hand Force Lightning deal no damage.
Bug fix: Fixed an issue where Lightning Absorption didn't grant the correct amount of health after being used.
Nerf: Reduced health regeneration from 300 to 250
Nerf: Reduced amount of health regenerated by the Lightning Absorption Star Card by 5 on all rarities
Nerf: Reduced the targeting angle from 2-hand Force Lightning from 14 to 10.
Bug fix: Fixed an issue where Chain Lightning was not doing damage.
Bug fix: Fixed an issue on PS4 where Light Side heroes could lose the functionality of their basic attack if they were caught in a Vader and Palpatine ability chain.
Bug fix: Fixed an issue where Palpatine's basic attack took too long to recharge.
Bug fix: Fixed issue with Chain Lightning not working on close targets.
July 4, 2018 server-side update
Mechanics change: Removed ability to spawn as Emperor Palpatine due to a bug that allowed his basic attack to target players through walls.
Mechanics change: Emperor Palpatine has been added back to the game.
Nerf: Fixed an issue with Palpatine being very overpowered by restricting the angle from which the player could lock on with basic attack.
Bug fix: Fixed an issue where Palpatine could lock onto targets through walls.
Bug fix: Fixed an issue where Palpatine's basic attacks were not draining the blocking stamina of lightsaber heroes.
Bug fix: Fixed an issue where the area of effect of Electrocute would sometimes persist on the ground.
General: Fixed a spelling error on the description of the Lighting Reach Star Card.
Bug fix: Fixed an issue where Palpatine's main attack would show on Obi-Wan Kenobi's body instead of his lightsaber while blocking.
Bug fix: Fixed several issues with Electrocute not always registering due to map geometry factors.
Bug fix: Fixed an issue where Chain Lightning could damage Obi-Wan even when while he is blocking.
Nerf: Reduced the stun of the basic attack from 1.6 to 1 second.
Nerf: Added stun immunity lasting 3.5 seconds to all heroes after they have been stunned once by Captain Phasma, Iden Versio, Emperor Palpatine, Chewbacca or Lando Calrissian.
Bug fix: Fixed an issue that would occasionally slow down a character's overall speed and animations when being affected by Palpatine's abilities.
Bug fix: Fixed an issue that would cause lightsaber heroes' blocking functionality to break if they blocked the Electrocute ability inside the Dark Aura area of effect.
Bug fix: Fixed an issue where Emperor Palpatine could not deal damage to a turret when attacking with both hands.
Where are those Droidekas? Update
Buff: Adjusted the heal values of the Lightning Absorption Star Card from 10-15-20-25 to 40-60-80-100 to be consistent with other hero health-on-kill Star Cards.
Buff: Changed Lighting Absorption Star Card to take effect whenever Palpatine defeats an enemy.
Mechanics change: Health-on-kill Star Card called Lightning Absorption has been replaced with Show No Mercy.
Mechanics change: Emperor Palpatine now gains health from every kill automatically, no Star Card required.
Nerf: Reduced the camera shake experienced by enemies when targeted by Palpatine's basic attack.
Quality of life: Emperor Palpatine's Dark Aura and Electrocute now show the amount of players targeted.
Quality of life: The Chain Lighting ability now shows the target number when available against opponents.
Buff: Players cannot trigger Chain Lightning without an enemy in its area of effect.
Buff: The stamina cost of the attack has been reduced from 20 to 16 points, which increases the sustain time from 5.5 to 6.5 seconds.
Nerf: Players can evade and use their abilities 0.05 seconds earlier after being affected by Electrocute. Players can also move 0.1 seconds earlier.
Nerf: Players can move and use their abilities 0.15 seconds earlier after being affected by Chain Lightning.
Nerf: The staggering effect of Palpatine's 2-hand basic attack has been removed.
Bug fix: Fixed an issue that would cause Dark Aura and Chain Lightning to cancel when performed at the same time as a dash / roll.
Quality of life: Added ability crosshair for Chain Lighting.
Bug fix: Fixed an issue that would allow Palpatine to maintain the effect of a basic attack while he is using any of his abilities.
Bug fix: Fixed an issue that would cause the blinded animation of enemies to be on a continuous loop when affected by Dark Aura.
General: Various visual improvements to the Dark Aura VFX, including fixing an issue where the ability would affect visibility for teammates.
Redundant change: Quality of life: Added ability crosshair for Chain Lighting.
Nerf: Removed slow movement on Dark Aura.
Nerf: Reduced single-hand damage from 15 to 14.
Nerf: Reduced double-hand damage from 32 to 28.
Nerf: Reduced Chain Lightning radius from 26.25 meters to 18 meters.
Nerf: Reduced the damage of Palpatine's basic attack against the TX-130.
Bug fix: Fixed an issue where Chain Lightning could occasionally go through blocking.
New content: Sith Eternal Appearance.
New content: Palpatine is now available as player-controlled and AI Heroes on Age of Resistance maps of Supremacy, Instant Action, and Co-Op Missions.
Emperor Palpatine is voiced by Sam Witwer, who has previously voiced him in The Force Unleashed and Star Wars Rebels.
Emperor Palpatine's theme music comes from the song, Battle of Endor II Medley from the Return of the Jedi OST.
Similar to his appearance in Return of the Jedi, Palpatine does not use a lightsaber but in Pandemic Studios' Star Wars: Battlefront II, he does.

In addition to his main lightsaber, Emperor Palpatine also used several backup lightsabers throughout his life. He however, greatly disliked using lightsabers of any kind, preferring to use force-based attacks instead, which is the reason why Palpatine's lightsaber is not included with him in this game and the next.
Sam Witwer once again reprises his role as Emperor Palpatine.
Like the previous game, Emperor Palpatine's theme music comes from the song, Battle of Endor II Medley from the Return of the Jedi OST. Similarly, he does not wield his lightsaber, preferring to utilize a variety of Force-based attacks.
After the Hero Starfighters Update in July 2018, Emperor Palpatine was temporarily removed from the game for repairs via a "killswitch" after his lightning attacks were broken; in addition to being able to shoot through walls again, the auto targeting/auto aiming of his lightning attacks were deemed too strong, and as a result, Palpatine was removed from the game in order to be rebalanced. "Kill switches" for heroes were implemented in the behind-the-scenes of the game by the developers at EA DICE after an exploit in Battlefront allowed Lando Calrissian to shoot his homing power blast infinitely with no cooldown.
In the campaign, Palpatine is also responsible for Operation: Cinder.
Community content is available under
CC-BY-SA
unless otherwise noted.