Hailfire Droid (Hailfire Droid Tank)
Basic Info
Type:

Tank

Affiliation:
Ship Details
Crew:

1 Pilot
The Hailfire Droid's first appearance was at the battle of Geonosis in Attack of the Clones and was found to be useful in many ways. The Hailfire Droid's missiles are extremely efficient at demolishing enemy Vehicles, whereas the repeating blaster is of more use at mowing down enemy infantry. Another way of removing enemy infantry is by running them over. The missile launchers are devastating at close range but spin out of control if you try to snipe a LA-AT Gunship or an AT-TE. The best way to destroy an AT-TE is to circle it at close range and use your speed and missiles to destroy it.
Attacks (SWBFII)
Edit
Attacks (SWBFI)
Edit
Weak Point
Edit
In a single locus both behind and below the cockpit (Battlefront 2004).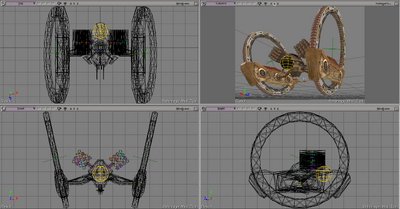 Back to Vehicles
Community content is available under
CC-BY-SA
unless otherwise noted.