Graveyard of Giants is a large land map set on Jakku in DICE's Star Wars Battlefront. It can be played in Fighter Squadron, Supremacy, Turning Point, and Walker Assault.
It was added as part of the Battle of Jakku DLC.
Overview
Graveyard of Giants is a very large, open map, which makes it great for sniping as well as aerial combat. There is a crashed blockade runner in the center of the map. Faring as a lightsaber hero will prove difficult due to vulnerability to air attacks. The Jump Pack is great for getting around on this map and avoiding conflict.
Graveyard of Giants takes place on the desert planet of Jakku. Like other maps, fulfilling certain requirements triggers a background event. For this map, if the Rebels gain a quick advantage over the Empire (such as taking several control points in quick succession in Supremacy), the Super Star Destroyer in the background will crash to the surface, causing the ground to shake.
In Fighter Squadron, players cannot fly into the crashed Imperial Star Destroyer.
Modes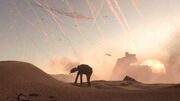 The following is a list of modes that Jakku: Graveyard of Giants can be played in:
Trivia
The Super Star Destroyer (SSD) that crashes in the background is actually called the Ravager and was the last SSD used by the Empire
Updates
Jakku: Graveyard of Giants AT-AT Health from 35000 to 50000: +30% Increase
General: Jakku DLC Content is being patched into the game, downloading it separately via platform storefronts is no longer required and can be deleted from your hard drives.
Walker Assault: AT-AT health increased by 18% on Outpost Beta, 8% on Jundland Wastes, 20% on Forest of Endor, 4% on SoroSuub Centroplex, and 5% on Graveyard of Giants
Fighter Squadron: Players are now protected while spawning on Graveyard of Giants
Colorblind: Enemy players highlighted with Scan Pulse now have the correct Deuteranopia or Protanopia settings on Graveyard of Giants and Goazan Badlands
New friend zones and additional spawn points for Turning Point on Jakku
Bugfix for crashing instantly when spawning in a vehicle on Jakku
Jakku - Invisible collision located on the landed Rebel transport ship
Gallery
Community content is available under
CC-BY-SA
unless otherwise noted.