Note: Alternate species are available for Rebels only. Death Star Troopers and Imperial Officers can only be humans.
Human


All rebel players start with a variety of human skins with helmets. Human skins without helmets must be purchased. They are the most used skin, taking up 95% of the playable skins.
Sullustan

Sullustans were humanoid beings from the planet Sullust with two flaps of jowls around their cheeks. Nien Nunb, co-pilot to Lando Calrissian in the Battle of Endor, was a notable Sullustan. Nien's sister, Aril Nunb, flew with Rogue Squadron after the Battle of Endor and during the Liberation of Coruscant among others. Available at Rank 40. 
Duros

Duros were a humanoid species with blue or green skin and red eyes from Duro. Cad Bane was a notable Duros. Available at Rank 40.
Rodian
Rodians were a reptilian species with antennae, green and scaled skin, large round pupil-less eyes, and snouts from the planet Rodia. Rodians also came in a variety of colors, however, only the skin tone pictured is availablr in the game. The bounty hunter
Greedo
was a notable Rodian. Available at Rank 40.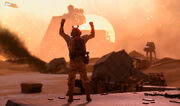 Zabrak

Zabraks were carnivorous horned near-humans from Iridonia. They are recognizable by their horns and facial tattoos. Eeth Koth was a notable Zabrak. Available at Rank 45.
Ishi Tib

Ishi Tibs were a reptilian/avian species from Tibrin. The amphibious Ishi Tib species can be recognized by their green skin and characteristic eyestalks. Available at Rank 45.
Quarren

The Quarren are an aquatic species from the planet Mon Calamari characterized by the four tentacles that protrude from their jaws. The Quarren could be a light shade of pink, a pale green, and the common hue seen in Battlefront. Quarrens were able to find success in the Aquatic Wilderness Fighters division of the Alliance Special Forces. A notable Quarren was the Sith Lord Darth Maleval. Available at Rank 50.
Twi'lek

Twi'leks are a humanoid species with skin pigment that spans a rainbow of colors. Their most distinctive feature is a pair of shapely prehensile tentacles called Lekku that grow from the base of their skulls. They are from the planet Ryloth and were often sold into slavery. Aayla Secura and Nawara Ven were notable Twi'leks. Available at Rank 50.
Weequay

The Weequays hail from the desert world of Sriluur. They have thick, leathery skin to help them survive the harsh conditions of that planet. Hondo Ohnaka was a notable Weequay. Available at Rank 60.
Cybernetic Human Female

This Human female has cybernetic implants similar to those of Lando Calrissian's assistant Lobot. This skin was made available free for all players on October 31st, 2016. No rank or credits are required to unlock it.
Community content is available under
CC-BY-SA
unless otherwise noted.