Rebellion Developments is a British computer games company, based in Oxford, which is most famous for the first Aliens versus Predator computer game. They also publish comic books since 1999 and launched their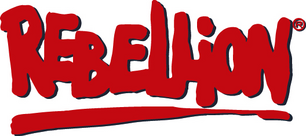 own book imprint, Abaddon Books, in 2006.
Rebellion was established by brothers Jason and Chris Kingsley in 1991. Their first known title was Alien vs. Predator for the Atari Jaguar, considered one of the few good games in that console.
In 1999 they bought the comic 2000 AD from Fleetway, and have developed several characters from the comic for the games market. The first commercial release, Judge Dredd: Dredd Vs. Death was mildly successful. A second game was released in 2006 based on Rogue Trooper and has been very well received.
Along with developing the title's characters for video games, Rebellion continues to publish 2000 AD as well as its sister title the Judge Dredd Megazine. In 2004, Rebellion entered a deal with DC Comics to reprint several 2000 AD strips in trade paperback form, including Judge Dredd, Strontium Dog, Nikolai Dante, and Sinister Dexter. When DC left the venture, citing poor sales, Rebellion elected to continue the line on its own. Rebellion also added the Judge Dredd: The Complete Case Files series, which has begun reprinting almost every Dredd appearance in chronological order.
In 2005, they had announced taking development of the sequel to Evil Genius (game) since the original developer, Elixir Studios had gone bankrupt.
In 2006 Rebellion purchased Tomb Raider developers Core Design from Eidos, as well as Strangelite from Empire Interactive, making the company the largest independent European development studio.
In 2007, Rebellion Developments made the PSP game titled Star Wars: Battlefront Renegade Squadron.