Regeneration is one of the few attacks in the game that affects all allies near your unit, along with
Rally
and
Ra
ge
. The unit rad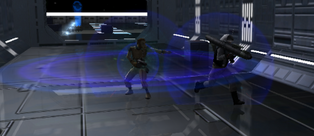 iates a blue circle that affects all allies it touches. If affected, the ally's
Health
meter will slowly refill. This keeps the units alive much longer and is a huge annoyance to the enemy. It is a powerful and useful attack, and it requires
Ammo
just to replenish it.

The units affected will have blue spheres encircling them, as well as the same effect for the damage reduction bonus.
Princess Leia has a similar effect to this ability, called Invulnerability .
If the Bothan spy uses stealth while the effect is on him, he will lose the visual effect but still have the health regen.
Community content is available under
CC-BY-SA
unless otherwise noted.