"Merciless trooper excelling in speed and advanced weaponry to hunt down and destroy anyone that stands in their way."
— In-game description
The Sith Trooper is the Infiltrator Reinforcement unit for the First Order in DICE's Star Wars Battlefront II. It was released on December 17, as part of The Rise of Skywalker Update.
Overview
[
]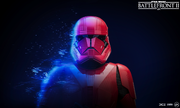 The Sith Trooper is a very agile and mobile unit. Already being faster than most units the "combat rush" ability allows it to move almost as fast as the Droideka unit, while also being able to regenerate a portion of their health with each kill.
Its weapon is similar to the TL-50 in the way that both weapons also have an alternate fire. Compared to the TL-50, the Quarrel Blast deals more damage, has far better range (being very good at range for an alternative fire) and travels in a straight line. The Quarrel Blast can also lock onto enemies if far away enough, similar to Leia's Alternate Fire. It can almost one-shot three of the four default trooper classes and can be used to finish off a weakened unit if they are weak enough. Heroes will take significant damge, but it will just be a fraction of their health. However, if used repeatedly, the damage can become greater than their health regeneration can later undo.
With the Oppression Grenade, you can be sure to hold off heroes a lot better! A powerful weapon that is able to restrict health regeneration of an enemy, depending on your situation, this can be deadlier to enemy heroes and special units, who have more health than regular infantry. Heroes need to regenerate to survive.
With the Combat Rush ability, you are able to traverse the battlefront at a speedy rate, while regening your health faster than normal. Watch out, runaways!
The Sith Trooper's Seeker Tactics ability reveals enemy units in the area of the trooper, the number of units expanding for every kill, allowing for a recon of enemy movements and positions and the ability to ambush.
Health and Movement
[
]
Health Statistics for Sith Trooper
Base Health
350
Health Regen Rate
40 health/sec


Stalker
25 / 35 / 45 / 55 health per elimination

Regen Delay
6 sec

Movement Statistics for Sith Trooper
Maximum Jump Height
2 meters
Number of Dodges
2


Evasion
Increases number of dodges to:
3

Dodge Length
4.75 meters
Dodge Cooldown
1.1 seconds per dodge


Evasion
Cooldown of each dodge becomes:
1.1 / 1.06 / 1.03 / 1 seconds

All dodges grant 20% damage reduction throughout the animation
Weapon
[
]
Weapon Image

Damage
140
Range
Blast Radius: 1.7 meters
Inner Blast Radius: 1.2 meters
Overheat
3 shots (0.34 heat per shot)
Melee
Weapon Image
Damage
65
Abilities
[
]
Star Cards
[
]
Boost Cards
[
]
Quotes
[
]
"For the Sith Fleet!"
— In-game
"Move on the objective!"
— Highlighting an objective
"Scanning soldier."
— Seeker Tactics
"Clear for grenade!"
— Oppression Grenade
"Moving in."
— Combat Rush
Trivia
[
]
Although Sith troopers were canonically affiliated with the First Order, Sith troopers were actually soldiers raised by a secret cult of Sith loyalists and followers of Emperor Palpatine, the Sith Eternal, and were the soldiers of the Final Order. 
Very few Stromtroopers, Imperial or First Order, have ever been to a world of the Jedi or Sith, and Sith troopers are among them.
Updates
[
]
Gallery
[
]
References
[
]