Special events are periods of time in DICE's Star Wars Battlefront II in which either the core gameplay is altered in some unique way or a special feature is added to the game temporarily. In this way, special events create new, temporary twists on already existing gameplay.
One example of a special event is a Battle Point event, which decreases the cost of Battle Points for different types of Reinforcements or heroes. This is often accompanied by an increase in how many of these units can spawn, such as in the event Heroes Unleashed, which allows 9 vs. 9 hero battles to occur in Galactic Assault.
Usually, special events occur on weekends.
Special events began in September 2018, and are detailed monthly in a Community Calendar.[1]
September 2019 Community Calendar
Edit
Click to expand
List of current or future special events
Edit
List of previous special events
Edit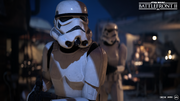 References
Edit
Community content is available under
CC-BY-SA
unless otherwise noted.