Special events are limited periods of time in DICE's Star Wars Battlefront II where core gameplay is temporarily altered or new content is made available to players through the completion of unique, limited-time challenges. Special events occur in-game every weekend and are detailed monthly in a Community Calendar published on the game's official social channels.
Special events began about one year after the release of Battlefront II, in September 2018.
Event types
Edit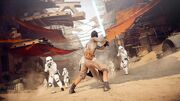 There are several types of special events that temporarily change core gameplay, reappearing every few weeks:
Heroes Unleashed: Greatly decreases the Battle Point costs of heroes to 500 and increases the max amount of heroes that can be spawned on each side in Galactic Assault. This event allows up to 9 players on both sides in Galactic Assault to spawn as a hero, allowing for 9 vs. 9 hero battles.
Fast Spawn Event: The respawn timer is reduced to 1 second. Can apply to all game modes, or just a few.
Boots on the Ground: Only trooper units, including Reinforcements, can be played. No vehicles or heroes, with the exception of November 2019's Boots on the Ground with Vehicles. This event can apply to Galactic Assault, Capital Supremacy, or both.
Foot Soldiers: Only trooper units and heroes can be played. No vehicles. This event can apply to Galactic Assault, Capital Supremacy, or both.
Elegant Weapons/No Match for a Good Blaster: Restricts the type of Hero that can be played in Heroes vs. Villains. Emperor Palpatine is unplayable in either of these events.
XP Event: The amount of XP earned for playing a trooper, vehicle or hero is greatly increased, accelerating the rate in which a unit can be leveled up. Can apply to all modes, or only a few. As of July 2019, there is a Double XP Event each Wednesday.
Battle Point Event: This event decreases the Battle Point cost for different types of Reinforcements and/or heroes in a game mode or set of game modes.
In addition, there are two event types for when new content, such as an Appearance, can be earned by completing limited-time challenges:
Timed Quests: Complete a limited-time individual challenge to earn the reward item.
Community Quests: Complete a limited-time community challenge to earn the reward item. Community challenges are challenges that have an extremely high criterion, e.g. capture 10,000 Command Posts, and whose progress is shared among all players.
Current Community Calendar
Edit
Click here for full resolution
Current special events
Edit
Previous special events
Edit
December 2019:[3]

Note that the Boots on the Ground With Vehicles event will still run until the 2nd.
Triple XP (5th-7th): Earn x3 XP across all game modes
Exact Revenge (from 6th): Capture 15 Command Posts in Capital Supremacy on Felucia to get the Kenobi! Emote for Maul
Achieve Serenity (from 8th): Perform 20 eliminations with Yoda's lightsaber to get the Yoda Serenity Victory Pose
Old Rivalry (from 10th): Perform 20 eliminations with Darth Maul's lightsaber to get the Kenobi voice line for Maul
Wisdom and Experience (from 12th): Perform 20 buffs as Yoda to get the Trust you Not voice line for Yoda
Fast Spawn (13th-16th): Faster Spawn rate is now enabled across all modes
I said it First (from 14th): Hit 20 enemies with Claw Rush as General Grievous to get the Hello there voice line for General Grievous
Crush and Destroy (from 16th): Eliminate 20 opponents with General Grievous' lightsaber to get the General Grievous Duelist Victory Pose
Free your Rage (from 18th): Choke 20 opponents as Darth Maul to get the Darth Maul Vigilant Victory Pose
50% Battle Point Reduction (20th-23rd): All units now cost 50% less Battle Points
Learn the ways of the Force (from 20th): Knock over 25 enemies with Luke Skywalker's Repulse ability to get the Farmboy Luke Appearance
For the Republic (from 21st): Eliminate 20 enemies with Obi-Wan Kenobi's lightsaber to get the Body and Mind Victory Pose
Old Enemy (from 22nd): Push Enemies with Obi-Wan Kenobi 20 times to get the Maul voice line
May the Force be with You (from 23rd): Hit 15 opponents with Leia's alternate fire to get the Princess Leia Appearance.

All challenges will be active from the 23rd.

Triple XP (24th-January 6): x3 experience is enabled across all game modes
All quests end on January 7.
July 2019:[9]

Double XP Wednesday: Earn double the amount of experience as usual in all game modes every Wednesday of July.
Clone Wars Community Quests (July 11–August 11): Weekly community quests to unlock new animated victory poses and VO lines for Clone Wars heroes all month long.
December 2018:[16]

Heroes Unleashed (14th–16th): Battle Point costs for heroes are reduced by 75% and all eight heroes can spawn simultaneously in all phases of Galactic Assault.
Life Day Event (17th–27th): Battle Point costs for heroes, vehicles, and reinforcements are decreased by 25% in Galactic Assault and XP earned is increased by 50% in all modes. Additionally, the front end theme of the menu will change every few days, focusing on different locations, eras, and heroes.
New Years Event: Power! Unlimited Power! (28th–January 1): In Galactic Assault, all 9 heroes for both Light Side and Dark Side factions are able to spawn simultaneously with battle point costs reduced by 75% for heroes, vehicles, and reinforcements. The spawn timer is also temporarily removed.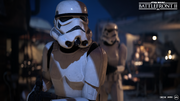 September 2018:

Vehicles Weekend: Battle Point costs for Vehicles are reduced.
References
Edit
↑ F8RGE: "This weekend's event will also have x3 experience enabled. Enjoy." on the Star Wars Battlefront Forums
Community content is available under
CC-BY-SA
unless otherwise noted.