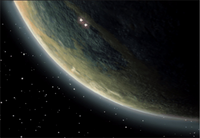 Vjun was a dark, smoggy, almost lifeless planet in the Vjun system. It was well known for its acid rainfalls and lack of plant life. It was the location of Bast Castle, this is where Darth Vader studied the Darkside of the Force.
The planet is only seen in Star Wars Battlefront: Elite Squadron, making it a non-canon planet.
Darth Vader's TIE Advanced x1
LA-AT Gunship/Alliance Assault Craft
Lambda-class shuttle
Droid Gunship
Darth Vader- Empire
Obi-Wan Kenobi- Rebel Alliance
Yoda- Republic
CIS- Count Dooku
Game Modes
Edit
1-Flag CTF
Community content is available under
CC-BY-SA
unless otherwise noted.